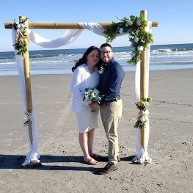 Rental's : Bamboo rental arch pictured above . Golden Ring Trellis or White arch with floral deco. pictured to the right.
Please scroll down page for more info.
Welcome to our page !
*** Deposit and contract required to secure your date.
IMPORTANT LICENSE NOTE:
If you do not live in NJ, you must apply for your license in the town you will be married. You may apply up to 6 months before your date , it takes 72 hours to prepare. Please contact the registrar in the town you will be holding your ceremony for an appointment.
If you do live in Nj , you must apply in the town where you live and bring the license with you on the wedding day . DO NOT fill in any blanks . This must be done by your officiant.
Hire a Professional ! This is your wedding day . The start of your new life .
Some thoughts and words of advise:
We have been receiving several calls from couples looking for "someone who knows what they are doing " because they have been to many bad internet minister ceremonies . Some people even buy robes and collars and call themselves Reverend ! Uncle Henry may mean well, but he has never performed a ceremony or filled out a license before. This too is an issue with the registrars of towns not receiving your important paperwork filled out properly and in the allotted number of days. We also receive many frantic last minute calls every season , from couples who have asked the wrong people to perform their ceremony , the person got nervous and backed out.. We have talked with wedding guests who hired a novice or "Had a Friend officiate" only to months later find out their paperwork was never properly filed.They then had to go to a very impersonal city hall where people are paying their traffic fines, and get remarried .
For your wedding day you are interviewing someone to perform a very special event. It is the beginning of the rest of your new lives together. There is more to a ceremony than just reading a few words in front of people . We are actually back up wedding planners for the day and must help ccordinate the ceremony, communicate with the venue, musicians or DJ and the photographer.It's too late when you are standing at the altar and realize the person performing your ceremony has no clue what they are doing . This creates problems for the photographers and DJ as well because they are trying to get the ceremony in order intead of doing the job you hired them for .
No add on hidden fees. Often officiants will quote a price and then start adding on travel fee's and fee's for reading the unity ceremony etc.. It all becomes confusing and starts adding up.. When I quote that is the price.
You may purchase extras listed on my contract if you like . Example : Arch rental , proffessional battery powered speaker and microphone sand or candle unity items.
I'm sure you will find our prices quite reasonable. There are many variables in performing a wedding ceremony. I prefer to speak with you to see all that is required before quoting a price. I'm sure you'd like to speak with your officiant as well before choosing someone to perform such an important service.
About Linda Moore :

Named " The Angel of Love" by friends and couples, I am legally licensed and have been Performing Non- Denominational Wedding Ceremonies since 1998. I have been in the wedding business as a consultant since 1988. The service can be as short or long as you'd like. A lovely Civil or religious service . How about a renewal of vows ? Sand or candle unity? I have all the items you need listed on my contract or you may provide your own. I'd like your wedding to be the day of your dreams! I treat every couple the way I would like my own son or daughter to be attended on their wedding day. I am always just an email, phone call or text away if you need help with planning .
I really enjoy the wedding business !
4 people to 400. Beach or hall, No event is to small ! [ or "Intimate" as we in the wedding business say. ]
As a little girl I loved to play "Bride dress up" making bridal tiaras from 1960's rhinestone bracelets!! Ha ha .. Little did I know I would grow up to make real bridal headpieces.
I was first employed as a tour guide where I learned to speak clearly and handle large groups of people. I then became a consultant in Bridal Sales, alterations and custom designed wedding veils . [ I still restore antique and family heirloom headpieces ] It's not unusual to find me [ Linda] in the bridal room lacing up bridesmaid dresses or helping the bride.
I dress appropriately in either a suit or, summer dress if the bride/groom requests casual attire.
Please click on the " About " link above left of Arch pictured at the top of this page to read about Jim and Linda's background in the wedding business.
About Jim Moore:

If you prefer a man to officiate , My husband Jim Moore received his clergy license in 2007, and is also doing a wonderful job. I have been getting great reviews from brides and grooms about Jim's ceremonies. [ Of course! I have shown him everything I know ! lol, wink .] Please see testimonial page .
Officiating a ceremony is an honor and an important job ! Please be sure to hire a professional officiate/ celebrant who knows how to fill out and file your paper work properly. Many registrars will only allow a legally licensed proffessional to file your paper work. Mistakes on the legal document cause delays with the certificate of marriage.
About Lori McNally :

Lori McNally Officiant licensed since 2017 she joined our business in 2019 as an officiant .She has been working in the wedding business with us behind the scenes for 6 years. In addition to beach and other locations , Lori is also our " Lighthouse officiant " as she has made several trips up the Cape May light for small ceremonies at the top.
Rental Items *Added value savings.
We also have decorated Bambo or white wedding arch, silk flower arrangements and tiki torches. My arch has been properly maintained and looks as pictured above . I have seen a few bamboo arches from florisits that are not as nice. Some are skinny bamboo that sways in the wind , others have started to decay and split. That is why I bought one of my own so I could provide good quality for my weddings.
[ There are photo's of my arches on rental page ]
Our Service includes:
Custom ceremony creation based on your input,
Unlimited e-mail and phone consultations,
Same day rehearsal*[ I arrive 1/2 hour early to coordinate,I speak to bride and grooms side separately if the bride does not want the groom to see her in her dress , Separate rehearsal date Monday through Thursday, is a small extra fee] ,
Ceremony coordination with venue and vendors,
Ceremony performance,
Filing of completed marriage license..
MY RATES are REASONABLE because,,,,,,#1- I love what I do. #2-I am happy to devote a day to unite a couple in love. Remember,, It's more than "just a half hour of the day." Your ceremony is sacred and the person performing it will become someone on which you are depending . You will have much communication , I look forward to being that person.
** Toms River , Seaside , Long Beach Island , Deptford area , Egg harbor Township. [EHT ] Manahawkin , Margate , Ventnor , Ocean City and south to Avalon , Stone Harbor , Wildwood , and Cape May.