Testimonials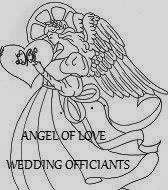 5.0 rating on Facebook and Wedding Wire
6.9.23 Tasha Hrutkay recommends Angel of Love Officiants
5 *** review
We are from PA. and needed an officiant from NJ. little did we know Linda wasnt JUST an officant but also a wedding planner and coordinator and gave referrals ( one being our incredible photographer Memories by Maria ) Linda sent reminders , planned details and got our fresh and beautiful flowers from a sweet lady named Helen! Linda is so kind and easy to work with . Shes the absolute best !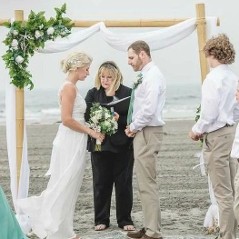 6.4.23
5*** from Gary and Sopha
Hi Linda ! We had such an incredible and wonderful day yesterday Everyone absolutely loved the ceremony, the words you said and the way you said them. You are proffessional,lovely and very well organized. You're amazing at what you do. We cant thank you enough.The ceremony was so special, moving and meaningfull for us and our parents.We couldnt be happier and we will never forget. So glad you were there for us and with us. Here is a nice picture of us. Sophia and Gary.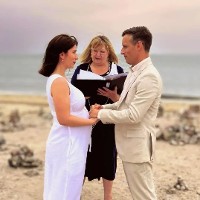 6.21.22.
Lori was great and everything was Just Perfect Perfect !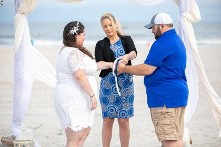 2/18/22
We were married in Cape may 2/18/22 Jim was our officiant. He was very professional, kind and always avaiable for our questions. During our process he sent over several ceremony options to choose from and we were able to to make edits to make our ceremony more personal to us. We highly recommend Jim. 10 out of 10 ! Becky
7/7/21
Linda was very helpful to work with during the process and I highly reccomend her as your wedding officiant! Joseph Conboy
7/28/21
We had Lori as our officiant . Down to earth , flexible and easy to work with Everything was perfect. we rented an arbor from her and purchaced a sand unity jar .She brought everything we needed.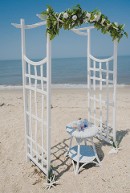 8/22.20
Thank you Jim for the wonderful ceremony at our home in LBI.
Fast responce and excellent ceremony . Vince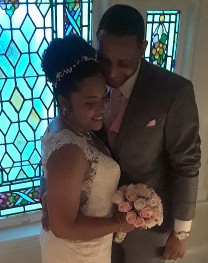 Thank you Linda, you were great, we appreciate your time and effort in helping us with our big day. It was a pleasure working with you. Hope you have aa good winter. Regards , Shanida and Justin at Peter Shields Inn Cape May. 2018
*****
6.22.18 - Hi Linda , You did a great job at our cermony . Thank you so much . Michael and Lauren.

6.17.18 . Hi Linda , We got so many compliments on our ceremony . Many said how unique it was . Thanks for everything. It was a beautiful day. Lauren and Matthew .

5.14.18- Hi Linda; we are werey impressed with your services and will highly recommend you ! Thanks you for making our Ocean City ceremony special. We came from our of town and you made the whole process very easy.The arch with beach decorations was also perfect ! Thank you!! Michael and Sharon
11.10.17 ,
Thank you linda so very much for braving the cold for us ! Our ceremony at Sunset beach was perfect for our renewal. We will see you again in 5 years. Maybe on that ferris wheel !
Most sincerely , Michael and Li
9.28.17
Hi Linda : I just wanted to tell you how truely special you made our ceremony . It was exactly what we wanted and we were so happy and thankful to have you as out officiant. So truely thank you form the bottom of our hearts . Rachel and Jesse

07.08.17
Hi Linda : You made the ceremony amazing I'm awestruck, so fast you could pull it together, make umpteen changes and made it so eloquent,I am a blessed woman, we are a blessed couple, you made our day incomparable, Thank you so very much,
Dan and Samantha D
ANGEL P. 06.04.17
We are so very thankful for the care and attention to detail that Jim Moore gave to us on our special day. We were more than lucky that he was available for a last-minute, Saturday afternoon wedding. Jim personalized the ceremony to match our story, and it truly brought tears to my eyes. He was super detailed about whole process, from obtaining a marriage license to the steps we'd take during the ceremony, which we appreciated and very much needed. He made our day extraordinary and memorable, and we can't thank him enough!
5.6.17 -
Linda,
Thank you for a fabulous wedding ceremony-it couldn't have worked any better! The day wound up being beautiful for it!
Thanks, Jenn
2.14.17
Thank you Linda. We are very happy with your service. Ray and Biky.
12.31.16- Hello: Linda, Thank you so much for being a part of our New Years eve. story ! Everything was wonderful! Happy New Year, Lisa and John
10.05.16 Ashley & Matthew's [ From Ashly's mom. ]
Hi Jim - it was a wonderful pleasure to meet you and am so glad you were the one to officiate the marriage of Ashley and Matthew -
we could have not prayed for a better day/weekend to celebrate their union. The harpist, Stephanie was an added 'gem' to the day and can't thank you
enough for recommending her. Ashley was apprehensive about it (had to break it to her the night before) but once the services were over -
she and Matthew both agreed that the music added a romantic touch! (which I knew it would - don't Mother's know everything??? )
Thank you again for helping with me with the 'secrets' and ensuring Ashley and Mattie had a wonderful wedding!
The best to you always and will promise to send a photo once they are all collected.
Take care!
Belinda
[Amanda and Andrews rental choices Pictured]
8.5.16 Linda : Thank you so much for everything !! Sorry we didnt have much chance to chat today , but everyone said how beautiful it all was . I will send pictures soon . Amanda and Andrew. [ Ocean City NJ]
9/21/2015
Hi Jim:
We absolutely had the time of our life! Thank you so much for marrying us. We got so many compliments about how beautiful the ceremony was. My parents loved the way you tied in the beach. Everything was just perfect! Thank you again.
Lindsay & Doug
6.8.15
Hi Linda :
Thank you again .You made our day so perfect. Amazing how perfect it was.
Hopefully next year we can get together for dinner when we come back to town .
Mike and Michelle
6.15.15
Thank you ! You made everything so easy and you were wonderful . : )
Fredrick and Mariah
4.30.15
Hi Linda: Thank you for the license information . We received many compliments about you .
Best regards, Lisa and Greg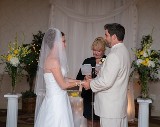 August 2014 : Hi Linda : I just wanted to thank you again for being our wedding officiant. We loved having you as a part of our ceremony and it was perfect. We got so many compliments from our guests about how beautiful it was. I know it has already been a few months, but we all just got together yesterday to watch our video. We talked again about how great it was so I just wanted to let you know. I've also put out a couple reviews on a few websites about how happy we were to have you!
Thanks again for everything!
Melinda and Matthew
Linda :
9/15/14 " I'd also like to thank you from the bottom of my heart for how helpful you've been! Most people do things for the money but I can tell by how attentive and helpful you've been you truly care about making the wedding truly special! Josh "
Hello Jim,
6/20/15 .Thank you sooo much! You were right, it doesn't rain on your weddings!!! It was sunny all throughout!
Everybody loved the ceremony they thought it was very sweet, intimate, and personal.
I was also told you took care of the bridal party and guided them on what to do and where to position themselves.
We appreciate that!
Please keep in touch, and yes we will send you a picture!!!
Once again, thank you for being a part of the happiest day of our lives!
XOXO
Kristine and Nick

Hey Jim,
11/1/14 Thank you so much for a wonderful ceremony at our wedding at the Carriage House . It truly was a perfect day. It went even better than we imagined. Thank you for being a part of it.
I will be attaching some of the ceremony pics for you.
Jason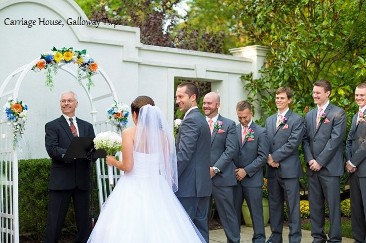 10/20/14 " Hi Linda. We wanted to take a few minutes to thank you so much for everything you did since the first day we contacted you.
Thank you for your patience and for answering all of our questions. We couldn't have asked for a better officiant.
Sorry that the weather finally didn't work in our favor, but I did hear it's good luck if it rains on your wedding day.
Again, thank you so much. Fabiola and Maria "
Dear Linda:
Thank you so much Linda for saving our wedding ! You jumped up and ran to our rehearsal with an hours notice, when that person." Internet minister " who was recommended by an co worker stood us up at the last possible second! The next day at the wedding you read my ceremony just as we had already planned it. I was afraid when you stepped in we would have to use one you wanted to read,,but you were so awesome to say it was no problem to use the one we already had. !
I don't know what we would have done if you were not available that day ! You really came through for us and your price was more reasonable than the other person too! We are eternally grateful. My family helped us plan our wedding for many months . Our wedding turned out perfect! 250 guests and a 8 piece band would have been standing around and eating to just have a party had you not been our super hero.. You are not just an officiant you are forever our WONDER WOMAN! thank , you thank you , thank you!
Kathleen and Joe